20th June
Trevor Wilkinson today recorded some breeding wildfowl: 4 adult and 8 young Canada Geese, 29 Coot (with 1 chick), and adult Mallard with 4 ducklings and a pair of Mute Swans with 4 cygnets on the small pools to the south of the main lakes. In all there were 22 Mute Swans present, as well as 20+ Tufted Ducks and 17 Great Crested Grebes. There was also a juvenile Pied Wagtail.
He also encountered 2 Black-tailed Skimmers (dragonfly) and even bothered to count 3 Rabbits.
19th June
The ringing nets were fairly lively – 15 new birds and 7 re-traps – but not with Reed Warblers, with not a single one caught. The first juvenile Reed Bunting appeared and there were plenty of Robins (Terry Elborn).
15th June
Quiet, but there was 1 late Common Tern around (Chris Parnell).
9th June
The third Constant Effort Site ringing was fairly good. After a virtual no-show up to now, Reed Warblers began to appear (3 new, 1 re-trap) and there were juveniles of both Blackcap and Whitethroat. During the ringing a Tawny Owl was calling from Emily's Wood and there was also a vocal Hobby.
Sadly, a dead Badger cub was found on the path by the ringing nets and a Fox was around (Terry Elborn).
6th June
Fairly quiet at Longham Lakes this am with best sightings Hobby and Common Tern (George Green).
A long session checking the site for some bat-boxes that had been put up in previous years was hard work and revealed precisely zero bats. However, two boxes put up for Dormice did have some resident Wood Mice. A mixed blessing was seeing an American Mink on the Stour.
28th May
A Peregrine flew over (Terry Elborn). There was also a juvenile Kingfisher, suggesting that the species has successfully bred here this year.
26th May
Ringing this morning produced a decent crop of birds, including 2 Kingfishers and a re-trapped Cetti's Warbler (above).
18th May
There were 9 Greylags and 2 Egyptian Geese on Hampreston Fields (Robin Trundle).
14th May
An Oystercatcher flew over south in the early morning (06.05), as did a small flock (5 birds) of Greylag Geese at 07.00. Meanwhile, a Cuckoo and a Cetti's Warbler were loudly singing at times during the second CES ringing of the year. This was a better session than last week, with 12 new birds ringed and 8 re-traps. 4 of the new birds were Song Thrushes and 4 were Robins, three of them juveniles. Other species trapped were Reed Bunting, Reed Warbler, Whitethroat, Blackbird and Dunnock.
12th May
A Sandwich Tern appeared in the morning (Alan Pearce). A 1st summer Little Gull was briefly seen feeding over Longham Reservoir South.  A Hobby put in a brief appearance as it chased Swifts (George Green).
5th May
First mammal-trapping of the year near the Settling Marsh. 5 traps set, five mammals: 4 Wood Mice and 1 Bank Vole (below).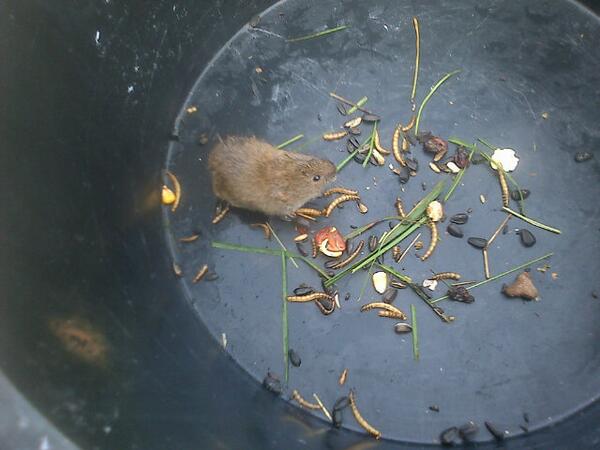 One trap was empty, yet bizarrely, one contained 2 Wood Mice together. Had they been males, it could have been ugly. I've never caught 2 rodents in one mammal trap before!
Just as well the mammals were good, because the first constant effort site (CES) ringing was disappointing. A Bullfinch was the highlight. A Cuckoo was singing in the distance.
3rd May
Garganey pair still around (George Green, Martin Wood), plus an influx of Swifts, 2 Common Sandpipers, the first singing Garden Warbler of the year and 1 Redshank over.
28th April
Grey Wagtail again by the Water Works, Cetti's Warbler singing from the Settling Marsh (new territory this year) and lots of Reed Buntings and Blackcaps singing (Roger Peart).
26th April
Martin Wood recorded 3 Great Crested Grebes, some Mallards with ducklings and various summer migrants, including House and Sand Martin and Reed Warblers. Also 1 Greylag Goose in Hampreston Fields.