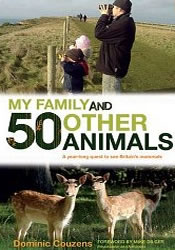 This book documents the dramas and delights of a quirky project to see fifty wild mammals in a single year in Britain. The truly original part was that it was a family project, so the author's wife and two children, the latter aged just 5 and 3, had to see them too. It's a combination of travel, animals and family – ideal for summertime light reading.
Chapters include: Dining out on Dormice, Going Batty, Chasing Princesses and Whale-ing at Hayling, which should give you some idea that it's not all serious and heavy. There are lots of wonderful places, unusual characters and implausible situations detailed in the narrative, told in a fun and amusing style.
This book was serialised in both the Daily Mail magazine and in the Sunday Express.
| Published | Publisher | ISBN |
| --- | --- | --- |
| 12/05/2009 | Carlton Books Ltd | 9780233002781 |
Reviews
"What could have been the wildlife equivalent of a Christmas round-robin letter turns out to be a delightful and funny account of the problems of seeing creatures that are either rare, nocturnal or both". The Guardian
"The Couzens family travelled the length of the country in search of pine martens, killer whales and edible dormice, and this book is a funny and engaging account of how they got on". Bournemouth Echo
"The result is funny, charming, but thoroughly illuminating, as Dominic uncovers all manner of surprising and thoroughly intriguing facts about some of our less well-known wildlife". Bird Watching magazine
How to buy
Currently in print and available at all good book shops. If you wish to order online: