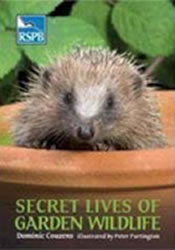 There is no wildlife closer to us than that found in our gardens — or indeed, in our houses — so it follows that many of those creatures we love, such as foxes and ladybirds, are literally household names. However, despite this familiarity, many of the characters reveal surprising lifestyles if you take a closer look, and there is more going on in our precious backyards that we might imagine. Did you know that slugs and snails have spine-tingly good sex; that mosquitoes can dodge raindrops and that Grey Squirrels have regular sleepovers with their neighbours? Did you realise that unemployment causes the breakdown of society in wasps, or that it takes the average spider only one hour to build a web from scratch?
| Published | Publisher | ISBN |
| --- | --- | --- |
| 30/04/2008 | A & C Black Publishers Ltd | 9780713685343 |
Reviews
"A wonderfully written information-packed guide to the world beyond the kitchen window." BBC Wildlife.
"Written with considerable charm and abundant wit, it is an extraordinary journey of discovery." Good Book Guide.
"With so many books on garden wildlife on the market, it takes something special to stand out in the crowd – and this certainly does!" BTO News
"This is nature writing at its very best." BBC Countryfile.
How to buy
Currently in print and available at all good book shops. If you wish to order online: