One of Dorset's newest birding sites, Longham Lakes in its current form has only been in existence since February 2010, when the large Longham Reservoir South was flooded for the first time. Previous to that, permission for gravel extraction and reservoir construction was originally granted in 1994, before which the place we know today was a couple of fields by the River Stour between Ferndown and Bearwood, a noted site for Brown Hares. Longham Reservoir North was filled in spring 2002 and it was only then that the site began to get really interesting for birds, and proper records began. In the years since, nearly 180 species have been logged and, with increasing amounts of good habitat available, that number is liable to increase in the future.
How to get there
Longham Lakes is close to Bournemouth, in Dorset, UK. It lies between Ferndown and the main Poole/Bournemouth conurbation, adjacent to where the A348 crosses the River Stour. The site is owned and managed by Bournemouth Water.
Information for visitors
There are wide, flat paths around both reservoirs, and visitors can use them freely. There are public toilets by the Study Centre. Dogs need to be on leads. There is currently no public access to Samuel's Wood, the West Fields, The Marsh, the old Settling Marsh area, Emily's Wood or the Water Works by the Weir. For wheelchair access, see notes on Study Centre below.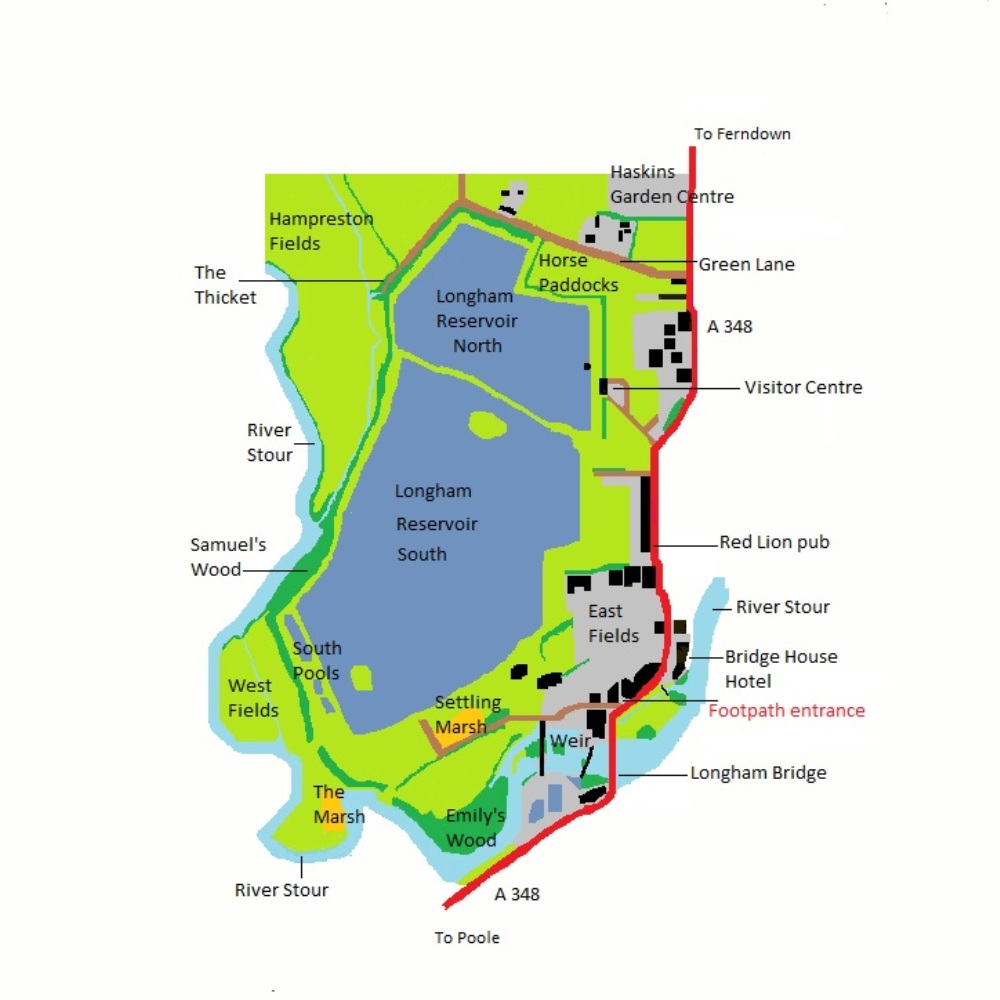 Please note that the Red Lion pub is actually called The King's Arms. It serves excellent food and is highly recommended.
Parking and Access
At the moment this is a bit awkward (but see below). I suggest the following options for visitors:
1. Park at Haskins Garden Centre, follow the A348 south and walk down Green Lane (a partly-tarmacked track) opposite Lamwells. Beyond the horse paddocks on the left is an entrance to LR North, with a style.
2. Park at The Bridge House (CityLodge) Hotel, cross the A348, turn left and take the public footpath right just before the Water Works (marked "Footpath Entrance" on the map above). This takes you, via a style, to LR South via the East Fields. [Parking is public in front of the Hotel. In practice they are tolerant of people using their large car park at the back].
Longham Lakes also has a spanking new Study Centre, built in 2009, complete with excellent car park and disabled access right next to Longham Reservoir North. However, owing to an agreement with the Local Residents' Association, it isn't open to casual visitors. However, nowadays the LONGHAM BIRDERS group provides permits for likely regular visitors so that they can use the car park.
If you are likely to come here frequently, send an e-mail to me (dominic@birdwords.co.uk) stating your name, postal and e-mail address and your mobile phone number [or land line if you don't have a mobile] (the information is for the Water Company in case of problems). I will send you free of charge a numbered permit which you can display in sight on top of your car dashboard.
As a Longham Birder, please don't park in the bays reserved for anglers. If more than 10 cars are already there, please could you respect the arrangement by parking somewhere else. Also, please don't use the badge simply to walk the dog. The Site Manager will always have the right to refuse access or ask you to move.
Birding at Longham Lakes
The site has something to offer all year round. Aside from the obvious benefit of two large waterbodies, birding is enhanced by the rural setting and mix of habitats, which includes woods, farmland and the River Stour. If you visit, go for a good mix of common species, especially waterbirds. Rarities are just that – rare. Migrants, especially small birds, are often thin on the ground. Visible migration is usually poor.
Sites
Longham Reservoir North, now a fishery, attracts good numbers of water birds at times, especially during the autumn and early winter. However, it gets very disturbed and most birds locate to LR South. The excellent list of species seen includes Black-necked Grebe, Garganey, Pintail, Goldeneye, Ruddy Duck, Little Gull and Yellow-legged Gull. More commonly there are Tufted Ducks, Mallards, Gadwall, Wigeon and Little and Great Crested Grebes. The increasingly tall bushes that surround the northern and western sides of the lake are improving for migrant warblers and breeding Reed Buntings, while the reedbeds that are dotted around the banks have breeding Reed Warblers and have played host to Bearded Tits and Water Rails.
Longham Reservoir South is the birding hub of the area, attracting reasonable numbers of wildfowl and gulls, including regular Little Gulls in season. The larger island provides most of Longham's wader records, although these use the reservoir's edges, too. Green Sandpiper is the most regular wader, although Little Ringed Plovers always show up in the spring on the southern end. They used to breed when the lake was a working quarry.
The Causeway between the two reservoirs is, for what it's worth, the rarity hotspot of the site. In 2011 it attracted Ortolan Bunting and Blue-headed Wagtail within a week or two of each other, and there are often Wheatears and White Wagtails in spring.
Hampreston Fields is an area of rough pasture between the western edge of Longham Reservoir North and the River Stour. It includes a small stream with overgrown marshy vegetation, plus a field that is usually grazed by horses. There are several hawthorn trees that attract thrushes and other birds in season, and the fields are good for Whinchat during migration, and Stonechat in the winter. The area is sometimes flooded, in which case it is used by wildfowl coming off the lake, and both White-fronted Goose and Bewick's Swan flocks have been seen here.
The Thicket might be small, but it is one of the better places for Passerine migrants such as Redstart, Lesser Whitethroat, Chiffchaff, Willow Warbler, Blackcap and Spotted Flycatcher.
The Horse Paddocks along Green Lane are quite good for Passerines such as Pipits and Wagtails, and also for Wheatears during passage periods. They provide an almost permanent feeding area for the local Rooks and Jackdaws, and there is a local pair of Green Woodpeckers. The scrubby patches and gardens adjoining Green Lane can be very good at times, providing, for example, Longham's only record of Yellowhammer so far, and several Lesser Whitethroats.
The East Fields are partly rough and partly grazed by livestock, primarily horses. The fields adjoin a number of gardens, which attract the usual range of woodland birds. In the autumn the site is quite good for visible migration, and has provided the only record of Brambling so far.
Samuel's Wood is ribbon of woodland between the Stour and LR South. It is the most mature woodland on site, with some large beeches and oaks. There's a Badger sett here, and the wood provides breeding areas for Nuthatch, Treecreeper, Stock Dove and Great Spotted Woodpecker. The edge is easily scanned from the path around Longham Reservoir South.
The old Settling Marsh is a small area of reeds and willows that is partly overlooked from the path on the east side of LR South, close to the pumping station. Being the main site for ringing at Longham Lakes, it has accumulated a decent list of species, including Redstart, Lesser Whitethroat and no less than 6 Yellow-browed Warblers. We are hoping for some even better rarities to turn up sooner or later.
Sites not available for access include Emily's Wood beside the River Stour. It has a high diversity of trees, including poplars, alders and birches. Good for flycatchers in the autumn and has breeding Blackcap and Chiffchaff. Woodcock are regular outside the breeding season in the undergrowth. The West Fields form an area of rough ground between the working quarry and the River Stour. Gets very flooded in winter and attracts Snipe and Jack Snipe. A path runs along the river and can be good for small birds and Kingfishers.